Hi guys I'm new here but I have been active on Ultimate Edition OZ forum

and I have new ideas for you

After giving the matter enough thought, I suggest the following as as roadmap for Ultimate Edition 3.6 which I think would establish it as a mainstream OS:
1- Ultimate Edition should profit from Mint's well-established reputation. It should drop Ubuntu for Mint, which is a rock-solid OS but still needs some esthetic touches and this should be the scope of Ultimate Edition. Based on my experience with Mint, I think the following touches should be put to it, esp. Cinnamon desktop:
- Cinnamon panel is plain dull and simplistic. Ultimate Edition should give it a sophisticated look with a unique panel theme and style. For instance we can give the Menu and calender areas a solid colour and make the area in between slightly transparent to allow for the integration of wallpapers in the overall DE. We can learn from Zorin OS Core 6 docklike panel. The picture below better illustrates the issue.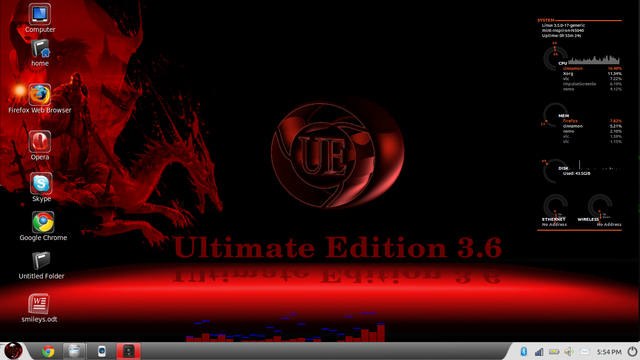 - Event sounds should come preinstalled and preconfigured on Cinnamon.
- Ultimate Edition installer should feature an audio-video slide welcoming users in many languages and some nice event sounds signalling transition while installing the OS, just like in Zorin OS core 6. This would give the OS a professional look and feel while assuring the inexperienced users of the installation process. Pushing the boundaries yet further, I think the installation process can even be music-flavored; with relaxing tunes in the background. This would take the rough edges off the installer's patent blandness.
2- Cinnamon and Mate are the most successful DE's so far and they are very compatible, unlike Unity which has been a push factor for many Ubuntu users and it's very intrusive with other DE's. LXDE with openbox is a very lightweight DE, compatible with Cinnamon and Mate and suitable for old computers. Putting all this together, Ultimate Edition 3.6 should cater for the needs of those using old technologies and those who use cutting edge ones. Putting Cinnamon, Mate and LXDE in one OS would be the best choice to achieve that. Check this 2013 Linux distro survey results
http://constantmayhem.com/ty-stuff/linu ... Statements
3- Mate is compiz-compatible but still neeeds some workarounds. Mint community has forked Mate and developed their own Mate-compatible Compiz. Find it at
http://forums.linuxmint.com/viewtopic.p ... 7&t=114613
4- MDM should replace Ubuntu gdm. It is more customizable and themeable than gdm and it's undergoing lots of development which would add to it's functionality and elegance. This customizability will allows theme designers to give Ultimate Edition an identity and set it apart from Ubuntu . MDM 1.2, Linux Mint 15 display manager, will feature HTML5 Login Screens, which means we can even play a minigame before login. Check these 2 links:
http://blog.linuxmint.com/?p=2327
and this
http://forums.linuxmint.com/viewtopic.php?f=25&t=126979
.
MDM version 1.0.8 (current)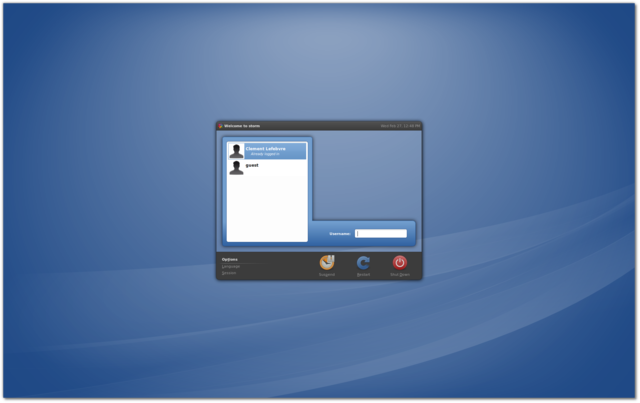 MDM version 1.2 (under development)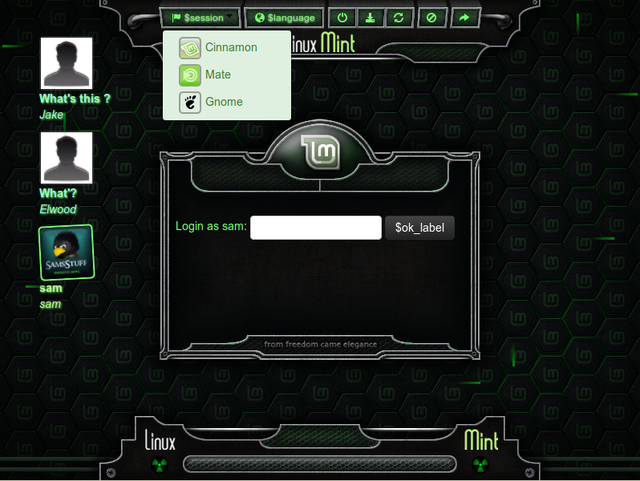 Being a Linux user with enough experience with mainstream OS's, I gurantee you that if we follow this 3-point roadmap we would improve Ultimate Edition ranking on Distrowatch from 27th to 1st or 2nd.
Thanks for considering my suggestion.